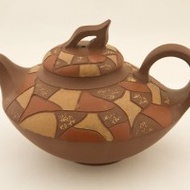 "A classic teapot with unique styling, the tri-colored clay with cut in "tiles" makes for an eye-catching design. As with all Yixing teapots this pot will further enhance the taste and aroma of your favorite tea with each use and will provide a history to your tea drinking unmatched by other teapots."
(max capacity: ~14 oz.)
http://www.theteamerchant.net/teaware/teapots/yixing-clay/yixing-teapots/mosaic-yixing-teapot/
"CCCI's Yixing-ware teapots are certified lead-free. Our line of Yixing ware exceeds the strict standards imposed by the China's Pottery Research Institute and is also approved by the U.S. Food and Drug Administration.
To ensure this high standard of quality, we have hired experts in Yixing, China, to monitor and supervise the manufacture of our Yixing ware. Each teapot is hand carved with selected quality clay. Our design experts collaborate with local potters to adapt traditional designs and invent new ones. The teapots are then fired at temperatures exceeding 1,000 degrees Celsius. This gives each teapot its distinctive finish."
- http://www.yixingcollection.com/products.htm
- http://www.yixingcollection.com/
Edit info Last updated by looseTman
Currently unavailable
We don't know when or if this item will be available.