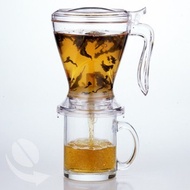 A better way to experience loose leaf teas.
Tease your senses by watching the leaves unfurl and bloom, releasing their flavor and delicious goodness straight to your cup. The TEAZE INFUSER's patented innovation fuses design and functionality into a beautiful and easy way to brew tea.
Made with medical grade Eastman Tritan™ with a stainless steel fiber, the infuser is BPA Free, dish washer-safe, and tough (So don't worry about dropping it, really).
The TEAZE INFUSER™ is a perfect addition to any coffee shop or tea room and is sure to capture your client's attention. Selling and serving loose leaf teas has never been easier. Plus they make great Christmas gifts!
Volume: 20oz
Edit info Last updated by Anthony Borthwick
Currently unavailable
We don't know when or if this item will be available.