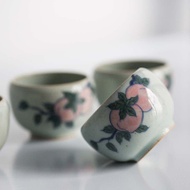 These teacups feature hand painted peach and hold approximately 115ml of liquid.
These are produced by a studio in Jingdezhen that specializes in only making handmade, hand-painted Qinghua (blue painted) teaware.
Edit info Last updated by Roswell Strange
Currently unavailable
We don't know when or if this item will be available.