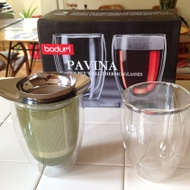 YoYo Personal Tea Set with Infuser and 12-Ounce Glass
by

Bodum
Bodum's modern and beautiful tea set includes the YoYo strainer, a 12-ounce Pavina double-wall glass, and a lid. The set allows one to brew loose-leaf tea directly in the glass. The double-wall design ensures the glass will keep beverages hotter longer, yet stay a comfortable temperature for holding. Measuring 4.6 inches long (11.7 cm), the tea strainer also fits with all Bodum double-wall mugs as well. The durable strainer is made from stainless steel while the Pavina glass is made from mouth-blown, heat-resistant borosilicate glass. Smartly and efficiently designed, the set has a dual-purpose lid. If placed upside-down onto the strainer, it keeps the water warm while the tea is brewing. If flipped after the brewing, the lid can be used as a saucer for the tea infuser. The see-through glass allows tea lovers to visually enjoy the rich colors their favorite teas offer. A hole on top of the infuser allows for easy storage by hanging, and all parts are dishwasher safe.
Edit info Last updated by Michelle
Currently unavailable
We don't know when or if this item will be available.