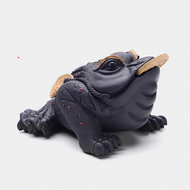 Handmade Yellow Browed Golden Toad Decoration Zisha Clay Desk Ornament
by

China tea bar
Golden Toad or Three-legged Money Frog is called as Jin Chan Chu in Chinese. It is a popular Chinese symbol for prosperity. It often depicts a bullfrog portrayed with little eyes and flared nostrils, with a coin in its mouth. The Golden Toad is also seen with 7 dots on its back, depicting the Ursa Major (Great North Pole 7 Stars). A must for those who wish to multiply their wealth! According to Feng Shui lore, it is believed to drive away evil, protect wealth, and increase income.
Edit info Last updated by jeason zheng
Currently unavailable
We don't know when or if this item will be available.