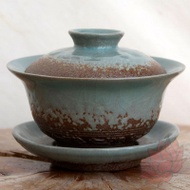 The ceramic process used to create the unique color in celadon clayware has been used in China for more than a thousand years. Iron oxide transforms the glaze into the blue grey green color. The cracking effect ("crazing") is unique and gives each gaiwan personality.
Edit info Last updated by Crimson Lotus Tea
Currently unavailable
We don't know when or if this item will be available.