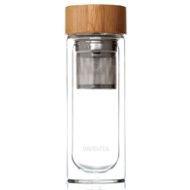 From DAVIDsTEA website:
We are smitten with this travel mug's sleek silhouette and handsome bamboo lid. And the beautiful double-paned glass design keeps your tea as hot or cold as you like, while staying comfortable to the touch. In fact, it might just be the perfect on-the-go mug. But can you improve on perfection? We think so. We've updated this classic with a higher capacity and a larger removable strainer for your tea leaves. Now you can fall in love with this noble traveler all over again.
How to use
1) Spoon tea into to stainless steel infuser
2) Secure infuser into thermos
3) Pour hot water over tea leaves , cover with lid, and steep as usual. Do not overfill – maximum water level is at the top of the metal infuser
4) If you use boiling water, wait a minute before putting on the lid
5) Remove infuser and empty contents after infusion
Now you're ready to go! Just remember…always keep your Noble in an upright position to avoid over-pressure.
12oz-$29.50
16oz-$39.50
Edit info Last updated by Jason
Currently unavailable
We don't know when or if this item will be available.