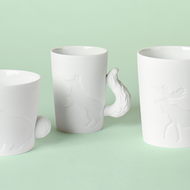 These adorable mugs are the perfect way to add a touch of whimsy to your daily tea routine. Each matte porcelain cup has a different forest creature imprint, with a lifelike tail that works as a handle. Choose between a majestic moose, a resourceful bear, a cunning fox and a scrappy little hedgehog. Cup size varies based on the animal: the moose holds 500 ml (17 oz), the bear holds 425 ml (14 oz), the fox holds 250 ml (8 oz) and the hedgehog holds 125 ml (4 oz). Microwave and dishwasher safe.
Edit info Last updated by Daddyselephant
Currently unavailable
We don't know when or if this item will be available.