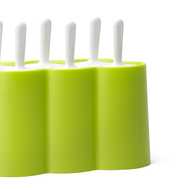 Freeze your favourite steeped ice teas into ice pops! And this sleek, modern ice pop maker is super easy to use – and even easier to clean. It'll bring guaranteed smiles to your next party, picnic or barbecue. Ready to start experimenting? Try freezing Just Peachy with peach slices and cream. Or Mango Fruit Punch with a splash of coconut milk. The possibilities are endless!
Edit info Last updated by Christina / BooksandTea
Currently unavailable
We don't know when or if this item will be available.