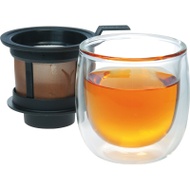 Dbl. Wall Tea Glass w/ Permanent Filter & Hat
The stylish, patented finum Hot Glass System offers you a very individual way to enjoy your tea. It offers the tea ample room to expand and to develop its body. While gently steeping your tea the hat prevents heat-loss and retains the aroma. When the brewing has finished the hat serves as a handy drip-off tray for the brewing basket.
Enjoy a cup of tea at home, in your office or at a bistro.
• guaranteed long durability and dishwasher safety
• infuser constructed of taste and odour-free stainless-steel micro-mesh and a heat-tolerant plastic frame
• heat-safe borosilicate glass
US Pat: 6 161 470 | JAP 21 6889/1999 | DGM 298 13 791.7
Edit info Last updated by Jason
Currently unavailable
We don't know when or if this item will be available.