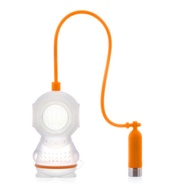 Come explore the vast underwater world of loose-leaf tea with Deep Tea Diver. He's dishwasher-safe, food-safe, and the stainless-steel 'air tank' serves as a handy counterweight so you can immerse him to any depth from cups to pots. Packaged in a clear peggable platform box.
Weight: 0.1 lbs
Dimensions: 2.14 × 2.14 × 5.25 inches
Material: Silicone Rubber
Made In: S Korea
Designed by: Sung Mun Yoon
Edit info Last updated by Kaylee
Currently unavailable
We don't know when or if this item will be available.