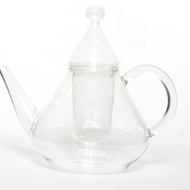 The Grosche Merlin's unique design is sure to inspire a luxurious tea experience. It's a visual masterpiece and great for entertaining with its 1200 ml (3-5 cup capacity). The included infuser makes it easy to steep and re-steep your loose leaf tea by simply adding water.
Tea is not only great tasting and nice on a cold day, it also has many other uses. A few of these extra benefits include: herbal teas have been known to help you relax, while black tea is great for that extra caffeine boost. Studies have shown that you can lose weight with green tea, and white tea is full of antioxidants. The Merlin teapot is perfect for steeping any kind of tea you like, and will give your table top that extra flare.
The Merlin will fit all of our warmers that we offer: the Sahara, Cairo, and Alexandria. It is made from heatproof borosilicate glass which is the perfect material for handling hot liquids like boiling water. The Merlin is dishwasher safe, but to avoid it being knocked around or getting hit by metal objects and getting damaged in the dishwasher, we recommend gently rinsing it out after use with some soapy water to keep it like new. The premium borosilicate glass is guaranteed against becoming cloudy even after years of use.
We do not recommend using the Merlin Infuser Teapot on the stove top. Boil water in a kettle and pour hot water into the teapot. Teapot is not for microwave use.
Features
Elegant and Subtle European design
Removable Infuser allows you to stop steeping when your tea is just right
Makes 4-5 cups of tea
Eye-catching and functional design impresses guests and provides great tea experience
Heat safe infuser pot
Life time warranty against clouding
TEA STEEPING TIMES AND TEMPERATURES
Green: 1-2 minutes – steep at 180 – 200F
Black: 3-5 minutes – steep at 212F
White and Oolong: 4-6 minutes – steep at 180 – 200F
Tisane: 5-7 minutes – steep at 212F
Brewing Loose Leaf Tea
Heat desired amount of water in a kettle (temperatures depend of type of tea). Glass teapots should not be used on the stovetop.
Add 1 teaspoon of loose leaf tea per cup of water to your teapot.
Pour the heated water over the loose tea leaves into the teapot
Let tea steep. Tea steeping times differ between teas.
Care
Do not microwave.
Hand wash all parts with soap and warm water. All parts are dishwasher safe, but take care as other items knocking into them may cause damage.
Wipe down the body with a slightly damp cloth as needed, and dry with a soft dish towel.
Edit info Last updated by DrowningMySorrows
Currently unavailable
We don't know when or if this item will be available.