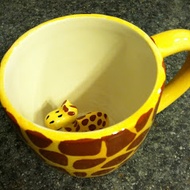 There's an animal hidden in all of us. Most mornings, it just takes a cup of coffee to be revealed. To understand more, we must look deeper, ever deeper into the cup before us, with its glazed dolomite and unexpected details. Whoa! Is that a zebra in my cup? A giraffe?
Multicolor
5.25"W x 3.75"D x 4"H
Dolomite
Dishwasher-safe
Microwaveable—may become hot
Sold separately
Edit info Last updated by Roswell Strange
Currently unavailable
We don't know when or if this item will be available.