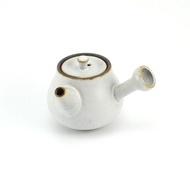 A tiny kyusu that is 70ml when filled to capacity, but could just as easily be used as a 50ml vessel by filling it below the lid. Perfect for solo gongfu tea sessions or sampling small amounts of tea. This teapot is will craze with a crackled pattern with use, leaving visual a history of the teas that you drink.
This teapot comes in seven different glazes and some glazes have matching cups.
Dimensions: 9cm X 7cm X 6cm Weight: 150g H20 Capacity: 70ml
Edit info Last updated by LuckyMe
Currently unavailable
We don't know when or if this item will be available.