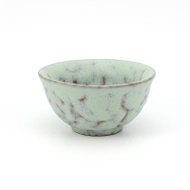 A guanyao teacup with a turquoise colored glaze. This teacup will craze with use leaving a crackled pattern of the teas you drink. With this type of glaze, the coloring, position and sheen of each teacup will vary and is totally unique.
Dimensions: 8cm X 4cm
Weight: 100g
H20 Capacity: 85ml
Edit info Last updated by Roswell Strange
Currently unavailable
We don't know when or if this item will be available.