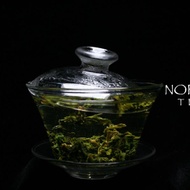 150 ML Capacity Clear Heat Resistant Glass Gaiwan. Watch the "agony of the leaf" through the clear glass steeping vessel as the tea leaves slowly unfurl during steeping. Perfect size for a 2-4 person Gong-Fu tea session.
Heat resistant glass will not break due to temperature fluctuations, but will break or shatter if dropped.
From Norbu Tea
Edit info Last updated by Mel
Currently unavailable
We don't know when or if this item will be available.