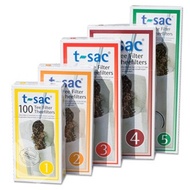 Each T-Sac bag can be used to make a full cup to a full pot of tea. Each box contains 100 pouches and comes in 4 different sizes. Boxes of #5 T-Sacs contain 40 pouches. These paper pouches are completely chlorine and bleach free. Note: for orders shipping to New Jersey, state sales tax will be applied to this item.
Sizes:
#1, for single cup or mug
#2, for 4 cup teapots
#3, for 8 cup teapots
#4, for 12 cup teapots
#5, for 3-6 cup tea carafes
Edit info Last updated by Anthony Borthwick
Currently unavailable
We don't know when or if this item will be available.