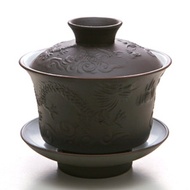 The dark clay dragon gaiwan is 100% clay with white porcelain interior. The bowl and lid each has a pair of raised dragon carving. Matching teacups available.
Gaiwan volume is 125mL. Approx 4.25oz.
Teacup volume is 30mL. Approx 0.8oz.
Material: Clay with procelain lining
Hand wash recommended.
Edit info Last updated by Autumn Hearth
Currently unavailable
We don't know when or if this item will be available.