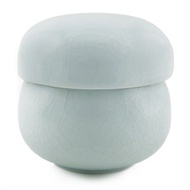 Korea's Koryo Dynasty (918-1392 A.D.) was a period of enlightened tea culture and pottery. The blue-green celadon of the Koryo Dynasty was praised by potters as the world's best, and is the inspiration for our handcrafted Jade, Sky and Indigo glazed tea infuser cups. Rishi's artisan teaware is fired at extremely high temperatures (1260°C-1280°C) and is free of toxic heavy metals such as lead oxide, cadmium, glass or boric oxide that are commonly used in modern pottery. Only natural materials such as wood, herb and tea ash, weathering stone, surface clay and limestone are used in our 100% natural glazes. Rishi's unique teaware complements our exquisite teas with artisan brewing function and 100% natural ingredients.
Hand wash only; do not use soap or detergent.
Do not place directly on stove
Do not heat over an open flame or in a microwave
Diameter 3.38"
Height 2.88" (not including lid)
Approx. 10 oz by volume
Edit info Last updated by Spoonvonstup
Currently unavailable
We don't know when or if this item will be available.