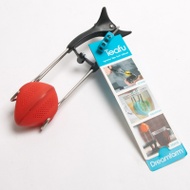 Teafu is a silicone tea infuser and scoop all bundled into a clever and fun design, it even has a built-in stand!
How does it work? By Squeezing Teafu's flexible silicone pod it forces water in and out, circulating more water around your tea leaves which brews them faster, letting you enjoy your tea sooner. The flexible infuser pod also lets you squeeze out every last drop from your tea leaves, so when your tea is ready you can stand your Teafu on the counter without any mess. Teafu opens completely flat which makes it easy to clean and allows you to scoop your favourite tea into its pod just like using a spoon.
Features for Teafu – silicone tea infuser and scoop all-in-one :
Scoop your tea, squeeze, then stand
Eliminate mess by squeezing out every last drop of tea into your cup before standing Teafu up on the bench.
Easily scoop your favourite tea into Teafu just like using a spoon because it opens completely flat.
Ergonomic handle makes it easy to squeeze Teafu and infuse your tea quickly.
Dishwasher safe.
Premium-grade silicone is heat resistant to 260°C/500°F.
Colour: Mixed colours.
Weight: 67g
Height: 17cm / 6.7"
Model: Teafu
Brand: Dreamfarm
Edit info Last updated by Jason
Currently unavailable
We don't know when or if this item will be available.