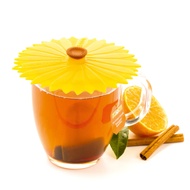 Charles Viancin Sunflower Lid X-Small (4 inch)
by

Teaware
The Charles Viancin Sunflower Lid is a beautiful and practical alternative to plastic wrap. Unlike plastic wrap this silicone lid can be reused over and over. The lid seals tight on all smooth rims, meaning any bowl can be used for food storage. The Sunflower Lid creates an airtight, watertight seal for reheating and storing. It can also be used while serving food, to keep your dishes hot or cold for longer. Each lid is oven, microwave, dishwasher and heat safe up to 500 degrees Fahrenheit.
Edit info Last updated by Nicole
Currently unavailable
We don't know when or if this item will be available.