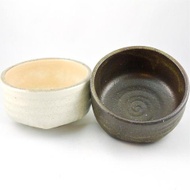 Authentic Japanese fired clay drinking Matcha bowl. This bowl has a flat bottom and steep sides, which means whisking matcha into fine foam is significantly easier for the beginner.
This bowl is now available in both black and white!
Edit info Last updated by The Teaguy
Currently unavailable
We don't know when or if this item will be available.