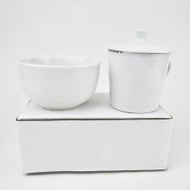 The international standard bowl & steeping cup. This version has teeth in the brew pot and not the dreaded notch – which allow for to many floaties into your cup if you are tasting rooibos and herbals.
Edit info Last updated by The Teaguy
Currently unavailable
We don't know when or if this item will be available.