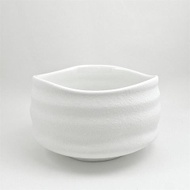 Purchasing ceramic ware, without so much as a touch or sip from the vessel can lead to some disappointing unpacking moments. When these arrived after many months, I had forgotten what I had ordered. Upon opening the box and unwrapping these chawans, I was ecstatic at what arrived.
They feel almost foundational, coarse on the outside, silky smooth on the inside (which saves the chasen tines from undo wear). I picked it up, turned it around in my hand and sprinted off to get my camera. This is a very beautiful maccha bowl.
Edit info Last updated by The Teaguy
Currently unavailable
We don't know when or if this item will be available.