I was surprised at some of the reviews here on Steepster about the waitstaff being unfriendly. I have never felt uncomfortable at Alice's Tea Cup. I've been there many times by myself and with friends. Sometimes the waitstaff does seem a little rushed when they are busy, but I have never felt like they are trying to move me on. It's true that they don't fill the cups to the brim, but that just allows room for adding cream.
The tea variety is excellent and they do steep each type of tea for a specific amount of time according to variety. The food is just scrumptious. They are known for their scones and I look forward to the seasonal varieties they have. They always serve them with clotted cream and strawberry jam. The other food tends to be savory. They have excellent sandwiches and salads. I love their Bangers and (Un)Mashed potatoes!
Often when I go with my sister, we will share a Mad Hatter Platter. Each person gets their own pot of tea (of their choice). You then get to share 3 scones, two types of finger sandwiches, either a chocolate mousse or piece of cake, and a variety of cookies. It's always a challenge for us to try to finish all the goodies!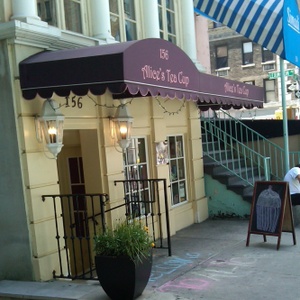 Photo submitted by
AmazonV
156 East 64th St
New York, New York
(212) 486-9200