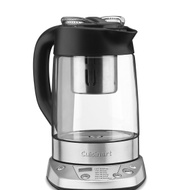 Cuisinart Tea Perfect Temp Programmable Tea Steeper and Kettle
by

Cuisinart
Tea is a matter of taste, so Cuisinart introduces a new programmable tea steeper that lets tea lovers call the shots. Preset water temperatures ensure each variety of tea steeps at the proper temperature. A countdown steeping timer can be adjusted to increase or decrease steeping time according to taste. Or remove the stainless tea infuser to turn this tea steeper into a kettle by putting on the "kettle lid" on; and heat up to 1.2 liters of water fast.
more info here: http://www.amazon.com/Cuisinart-TEA-100-PerfecTemp-Programmable-Steeper/dp/B005RRBI9I/
Edit info Last updated by Ze_Teamaker
Currently unavailable
We don't know when or if this item will be available.