I decided to have dinner at Dinner at Tea & Sympathy around 9 pm on Saturday.
There is a list of rules on the door, funny enough that Nicky spells her name the same way.
The wait staffs were two girls, one Irish, not sure the other one's accent but it sounded UK/Ireland.
Overall it's a tiny place, but when I arrived it was almost full, but no wait.
They discourage lingering, but are pleasant, helpful, and it seems (I have never visited England) like a shop you could find abroad.
I had the soup of the day, squash soup, with a lapsing souchong.
The soup was spicy but nice. It wasn't heavy and I was glad for that on a hot night.
The Lapsang Souchong was prepared as loose leaf in a postman teapot. They provided a cup strainer to keep leaves out of your cup while pouring.
They failed to mention how long, or that they had not steeped the tea yet. I let it set two more minutes as it was very pale. I think it could have used another minute.
The unfortunate part of the large pot and small teacup was that my first cup was weak, my second cup was perfect, and the third cup was over steeped as there is no way to stop the steeping process other than to drink faster.
Although there is a no lingering policy I never felt rushed, and the girls knew their product.
Sadly I failed to get photos of the outside or inside. The inside walls are decorated with pictures of royalty, and other random British memorabilia. Behind the counter there are many, many different teapots and teacups, which do seem to get used. I wonder if even the ones on the top shelves near the ceiling get used when it gets very busy.
The bathroom was next to the kitchen and was tiny. The door stuck, so at first I thought it was occupied, the staff saw me look dejected and pointed out I just needed to pull harder.
Overall the place was clean, the food was good, the quality of the tea was good, and the staff was very pleasant and helpful. My only complaint is the need to monitor your own tea after it arrives at an unknown steep time. I would recommend stopping by – the people near me were enjoying mushroom pie, scones and clotted cream, and other delicious looking items.
My meal came to $16 including tip.
Next door is the store, Carry on Tea & Sympathy's, it is small. The store makes excellent use of their space to offer a large selection of teas and china. They also offer to go service for those not wanting to sit for a meal.
Next to the store is an unrelated fish and chips store, making that stretch of street very British.
http://amazonv.blogspot.com/2011/06/tea-sympathy-place-review.html
Tea & Sympathy Edit
| | |
| --- | --- |
| Type | Tea Room |
| Style | British |
| Serves | Iced, Bubble, Loose-leaf |
| Food | Sandwiches, Full menu, Snacks |
| Features | Afternoon tea |
| Good For | Dates |
Hours
Mon

–

Fri
11:30

AM

–

10:30

PM

Sat

–

Sun
9:30

AM

–

10:30

PM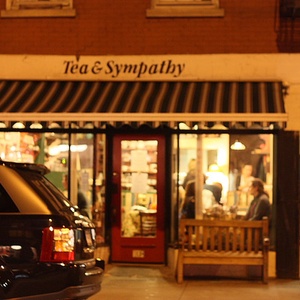 Photo submitted by
teaposts
108 Greenwich Ave.
New York, New York
(212) 989-9735