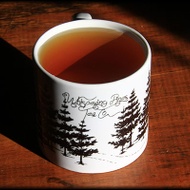 Our beautifully crafted ceramic mugs are proudly designed and printed in the USA! The Woodland Mug is dishwasher and microwave safe, fits perfectly in the hand, and is the ideal size for multiple infusions. The Woodland Mug is also the perfect companion to our Tea Infuser Set and is available as a kit in our teaware section.
The Winter Edition design is inspired by the Crystal River in Glen Arbor, Michigan. With a meandering river and pine trees around the edges, this snow-white mug reminds you just how much you love the warmth of tea! This design also sports a few of our favorite local wild animals from Glen Arbor – with a red fox, white-tailed deer, and a flying-v of canada geese! Enjoy this winter woodland inspired mug any time of the year!
Winter Edition 2013
Total Special Edition Mugs Produced: 22
Size: 6 fl. oz.
Design by: Brenden Gebhart
Imported, Printed in the USA
http://whisperingpinestea.com/woodland-mug.html
Edit info Last updated by Whispering Pines Tea Company
Currently unavailable
We don't know when or if this item will be available.