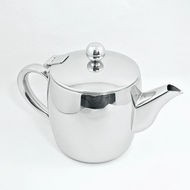 A beautiful, sturdy & thick walled stainless steel tea pot. Holds about 18 oz and comes with its own mesh infuser basket.
After having poured tea from hundreds of teapots over the years, this is one of the very few that makes dripping on your nice tablecloth a thing of the past. This teapot pours extremely well due to the perfectly designed spout.
If you like to sip your tea slowly, and take your time with a pot of tea, then your tea will stay hot for well over 30 mins. A very aesthetically appealing design and will last more then your lifetime.
Edit info Last updated by The Teaguy
Currently unavailable
We don't know when or if this item will be available.